Friday Jul 29, 2022
Episode 13: MoFi-pocalypse - Mobile Fidelity Digital Debacle | Monitor Audio Studio 20 | iFi Audio Zen One Signature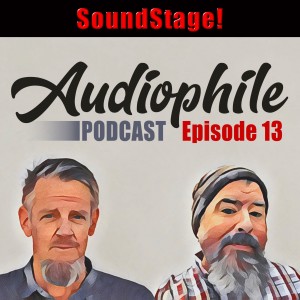 In this week's first segment (02:48 to 15:52), hosts Brent Butterworth and Dennis Burger share their varied opinions on "MoFi-gate," the biggest scandal in the analog audiophile world right now. It turns out that Mobile Fidelity Sound Lab—long lauded for their all-analog production process—actually creates their lacquer masters from 4X DSD files these days, not directly from the master tapes. Will this be the end of this revered audiophile company? Is the outrage justified? Brent and Dennis have thoughts.
Next up (16:24 to 28:15), they dig back through the Stereophile archives to discuss a review of the Monitor Audio Studio 20 loudspeaker written by Robert Harley in 1991, complete with measurements by John Atkinson. Monitor Audio is a brand beloved by Brent and Dennis alike, so this throwback review gives them both the opportunity to reflect on just how much has changed in the world of loudspeaker design in the past 30 years. 
Finally (28:50 to 39:20), they dig into James Hale's latest "Art+Tech" column on SoundStage! Experience, in which he explores the music of Charles Lloyd through a pair of different iFi Audio DACs, including the same Zen One Signature, which Dennis recently fell in love with and added to his reference stereo system. Somehow or another, though, this leads right back to a discussion about vinyl. 
Sources:
"Mobile Fidelity UPDATE New details on the current Controversy" by The 'In' Groove: https://youtu.be/mrahjsfJBc8
"Mobile Fidelity - Interview on Mastering With Shawn Britton, Krieg Wunderlich & Rob LoVerde" by The 'In' Groove: https://youtu.be/shg0780YgAE
"Michael Fremer from Tracking Angle Focus on the MoFi Video" by 45 RPM Audiophile: https://youtu.be/Xl15-RC3wMU
"Did Mobile Fidelity Lie?? The evidence examined (with a surprise at the end!)" by poetryonplastic: https://youtu.be/S6kFRQ9NTDw
"Mobile Fidelity Sound Lab VINYL, oops!" by Steve Guttenberg Audiophiliac: https://youtu.be/B-_1lL3tfS0
"Kind of Blue: The Making of the Miles Davis Masterpiece" by Ashley Kahn https://www.dacapopress.com/titles/ashley-kahn/kind-of-blue/9780306815584/
"Monitor Audio Studio 20 loudspeaker review" by Robert Harley (First Published on Dec 1, 1991): https://www.stereophile.com/content/monitor-audio-studio-20-loudspeaker
"The iFi Audio Zen One Signature and Go Bar Open the Door to Charles Lloyd's Chapel" by James Hale: https://www.soundstagexperience.com/index.php/features-menu/art-tech/1075-the-ifi-audio-zen-one-signature-and-go-bar-open-the-door-to-charles-lloyd-s-chapel
"iFi Audio Zen One Signature Digital-to-Analog Converter review" by Dennis Burger: https://www.soundstageaccess.com/index.php/equipment-reviews/1197-ifi-audio-zen-one-signature-digital-to-analog-converter